by Steluta Boeru E.A.
With the nomination or the election of an executive branch official (US President and his Cabinet), the Title 5 of the Code of Federal Regulations Part 2634 provides that such official should transfer title or dispose of financial interests that might be in conflict with his official responsibility (or divest).
Same regulation allows the official, his spouse and his dependents to apply the Section 1043 of the US Code, which recognizes gain on such disposition only if it's in excess of the cost of "permitted property" (property that doesn't raise the issue of a conflict of interests; i.e. US bonds, Federal Reserve Notes, or "diversified funds") purchased in 60 days after the disposition. Usually this move means an enormous tax advantage to such officials.

You can claim business mileage deductions if you run a business or work as an independent contractor. Before calculating your business mileage, determine your principal place of business. This is the place from which you work most of the time. If you have an office, then your principal place of business is your office. If you work from home, then your principal place of business is your home and, in this case, you can deduct all business-related mileage.

When you use your car for both business and personal purposes, you must divide your expenses based on actual mileage. You cannot deduct the use of your car to get you to your business and back home. Refer to Publication 463, Travel, Entertainment, Gift, and Car Expenses.
To prove your deductions, keep records of your business trips as they happen. This results in a more accurate calculation than if you were to try to remember a year's worth of travels at tax time, plus, if audited, the IRS can choose to refuse your business mileage deduction claim if you don't keep detailed records.
For a list of current and prior year mileage rates see the image below.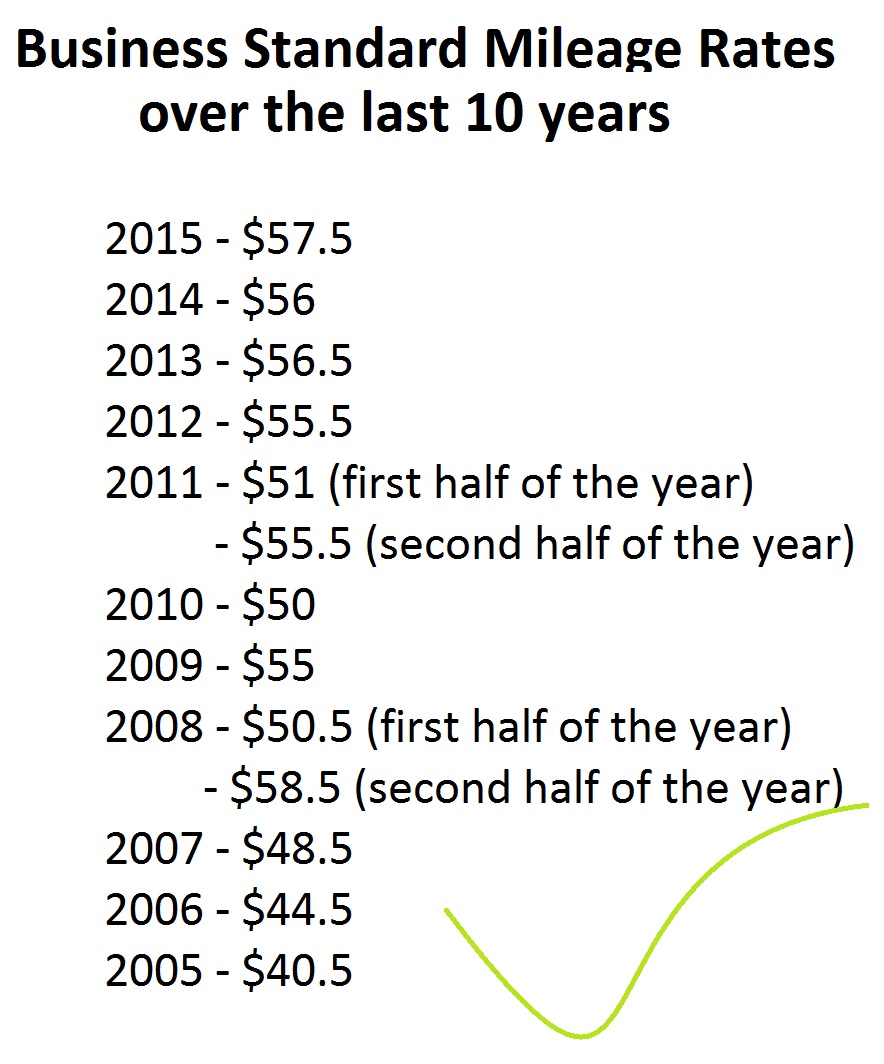 Tax scams can be sophisticated taking many different forms from tax return preparer fraud to identity theft. Each year IRS puts out word during the tax season about what these might be.
For 2014 the list of the "Dirty Dozen" included, among others, identity theft; telephone scams; phishing; false promises of "big refunds; false income, expenses or exemptions; and return preparer fraud. I will take the time to detail them hoping that, in case you can't be our client, at least you'll know what to avoid.
Identity theft is at the top of the IRS list for more than a year now and occurs when someone else uses your personal info to, most of the time, file a tax return and claim a refund. It will be best to contact the IRS as soon as you have discovered that your info such as your name, address, SSN, etc. is lost or stolen. Otherwise, your refund will be delayed and so will be your recovery. By e-filing your tax return you can find out faster if there was another tax return filed already in your name.
The phone scam has some variations with the intention to steal either your money or your identity. The scammers might seem pretty convincing since they could give you fake names, fake IRS badge numbers; they could imitate IRS phone numbers on your caller ID, or mimic a call site with background noises; and even provide you with the last four digits of your SSN. They might either tell you that you are receiving a refund and they need your financial info for direct deposit; or tell you that you owe money and you need to send it through wire transfer or some other methods. In case you get such a phone call and you know or expect to owe taxes, you should hang up and call later the IRS at 1-800-829-1040 (1-800-TAX-1040).
Next on the list is phishing, which is basically an unsolicited email or a fake website posing as the IRS and they prompt you to provide personal and/or financial info with which scammers might commit either identity or financial theft. This should be simple to avoid as IRS never initiates contacts with taxpayers via email.
Although I'm skipping a few scams on the IRS list, I want to focus on what I, as a tax preparer working for the past few years at one of biggest individual tax preparation companies in the country, have encountered, dealt with, and helped fixing: tax preparer fraud, which includes most of the time false income, expenses or exemptions claims; and promises of those "big refunds".
Some of the most popular pieces of advice available on the internet when choosing a return preparer are: stay away from preparers who claim they can "give" you larger refunds than others, or base their fee on a percentage of the amount of your refund (the bigger the refund, the bigger their percentage, the bigger your problem later on, and the bigger the amount you'll probably have to pay back with the interest). Guess what? No matter who prepares you tax form, you (yes, you the taxpayer) are the responsible one for the info in it.
So, use someone that is reputable, has credentials (EA, CPA, attorney, or unenrolled tax preparers) provides you with your own copy, revises it with you before signing it with their name as the preparer and their Preparer Tax Identification Number (PTIN) or their SSN, and will be around later on to answer your questions. Consider the fact that a regular Tax Preparer can represent you in case of only an audit and only if they prepared your tax return; but EAs, CPAs and attorneys can represent taxpayers before the IRS in all matters including audits, collection and appeals (IRS details these differences here). If you need representation for another state you should choose an EA, since they can represent you in any state, as opposed to a CPA, which can only do it in the state he or she is licensed in. At last, find out if the preparer is affiliated with a professional organization that provides its members with continuing education and resources and holds them to a code of ethics.
Hopefully this contribution makes you more aware of some of the other unpleasantries regarding taxes and keeps you at a safe distance.
If you have any other subjects you would like to find out more about, please leave a comment, or contact me.